luthier & owner
Aaron Reiley
Guarneri House's Luthiers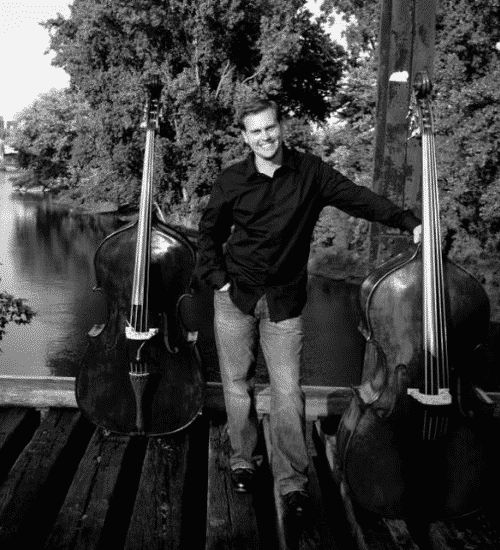 Aarons journey started in the basement of Guarneri House sweeping the floors. He started with easy projects like glueing seams, sanding etc. and he continued to learn from his father Steve Reiley. When Aaron graduated he decided to try his hand at some other roles, he was offered an engineer apprentice position at Spectrum Industries where he stayed for almost 10 years before realizing his passion for instrument making.
 In 2003 the Reiley's approached Aaron with an offer to join the Guarneri House team. Guarneri House had been offered a large job with Yamaha to set up all their violins nationwide. Aaron could not pass up the opportunity, which was just the beginning to prepare him for what was in store. Aaron was honored to be the sole luthier setting up over 20,000 violins in an 8-year period. While working with Yamaha, Aaron started studying with his father and Steve McCann to not only do the small set ups but to be a part of the bigger ones as well. During this time Aaron worked on customer basses, from student to professional  level. As his craftsmanship got stronger, Aaron decided to make his first bass. Aaron constructed this first double bass, a Panormo model, patterned after a double bass owned by late concert artist and teacher Larry Angell.  The first bass was entered in the ISB and received high marks. Aaron had a passion for big basses, big sound and to make every bass feel like it was designed intentionally for the customer. The first model to really put Aarons name in lights was his Reiley Model which was made and sold to Joe Oprea of Grand Rapids MI.  Aaron entered this bass in the 2011 International Society of Double bass convention and was awarded a Silver Metal for Tone and Honorable Mention for convention favorite. In 2019 Aaron entered another Reiley model double bass made for Joseph Conyers. This bass brought home the same awards taking home another silver metal and runner up convention favorite. Through all of Aaron's hard work over the years, he has continued to learn and grow to be well known for his Double Bass making, restoration and C string extensions. 
Aaron Reiley is the owner of Guarneri House LLC
Areas of expertise
Specializes in Double Bass
Bass Extension Maker
Repairs & Restoration
You can access information regarding Aaron Reiley double basses by clicking HERE
At this time Aaron has a wait list for double basses. If you are interested in commissioning a bass or would like more information on the process please contact him directly on his cell via call or text at 616-813-4358.